Built by cruise lovers, for cruise lovers, Silver Moon will be the epitome of 21st century luxury travel.
The newest addition to the Silversea fleet, Silver Moon accommodates 596 passengers on board, maintaining the trademark small-ship intimacy and spacious accommodation which are the hallmarks of the Silversea experience. Launched in October 2020, the ship features all-new Sea And Land Taste programme, an immersive culinary experience based on local ingredients and flavours from each exciting destination.
Silver Moon's first Grand voyage departed from Florida on the 7th January 2020, travelling 70 days around the South American coastline including Panama City, Guayaquil, Callao, and Belize.
Guests 596 | Crew 411 | Tonnage 40,700
Public Areas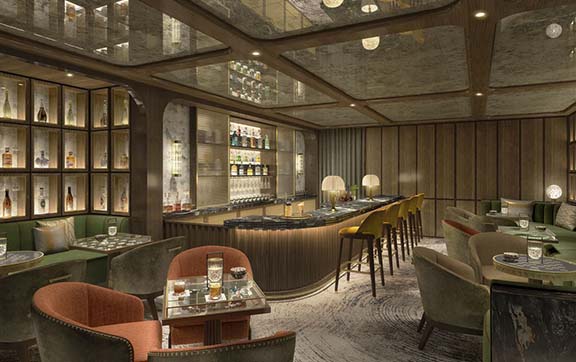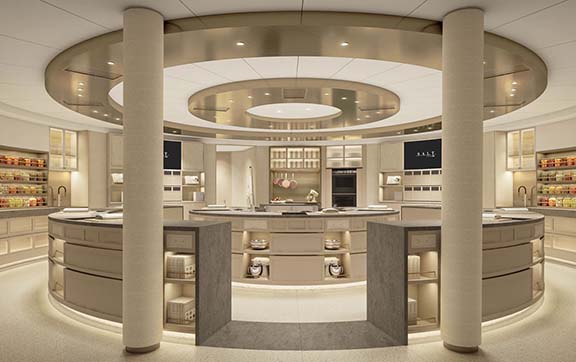 S.A.L.T. Bar
Nothing says authentic experience better than Silver Moon's S.A.L.T. Bar. Get a taste for the authentic and settle down to enjoy locally-inspired cocktails and drinks. How can you go wrong with a Rum Punch in Barbados, a Pastis over ice in Marseille or a Pisco Sour in Lima? Nothing unites new faces and old friends in quite the same way. Be inspired to find your perfect locally-inspired beverage at the S.A.L.T. Bar and let in the colour and flavours of your journey rush in.
Images are intended as a general reference. Features, materials, finishes and layout may be different than shown.
S.A.L.T. Lab
Welcome to the S.A.L.T. Lab, an interactive space where guests can deep-dive into local culinary heritage and techniques. Join our talented chefs and learn how your region's food is central to its culture. Engage in your destination through workshops, lectures and cooking demonstrations for an authentic souvenir not available in any shop. The S.A.L.T. Lab is not just about food and flavour; it is a unique place where holistic destination immersion gives an entirely new dimension to travelling. This is where the magic happens!
Images are intended as a general reference. Features, materials, finishes and layout may be different than shown.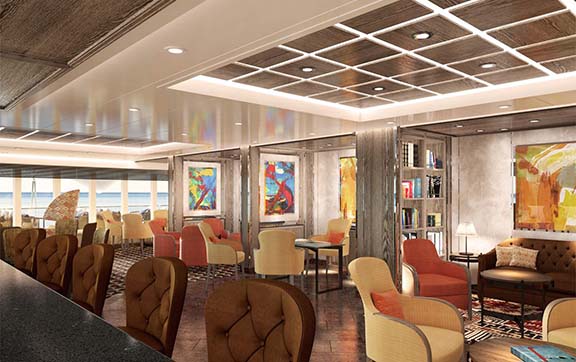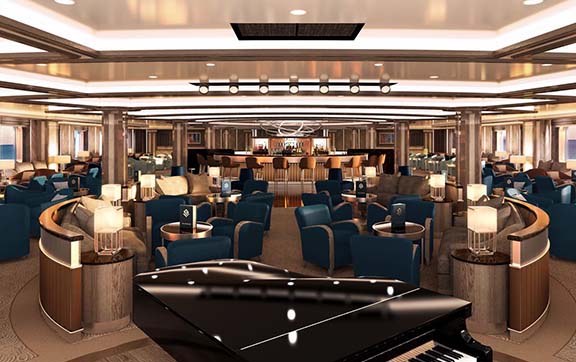 Arts Café
Nestled cosily on deck 8 is the all-new Arts Café. Hosting varied and exciting exhibitions, the Arts Café will showcase paintings and sculptures from a broad range of talent. The distinctive design of the venue is a relaxing getaway and offers daytime cuisine in the form of a café and deli-bar. But come early evening, the venue turns into a lively, evening cocktail lounge meaning you can retreat to one of the comfortable chairs, grab a drink and relax as you absorb the incredible view and watch the world float by. Whether you prefer the gentle sea breeze of the terrace or the sophistication of the inside, a superlative experience is always assured.
Images are intended as a general reference. Features, materials, finishes and layout may be different than shown.
Dolce Vita
Silversea's main bar has been newly reimagined for Silver Moon! Dolce Vita has of course kept her legendary charm, inspired cocktails, stylish décor and comfortable seating, but a central bar now means the warm ambience is better than ever! Oozing Italian glamour, Dolce Vita is a relaxed, refined bar with a nightly piano player playing all your favourite tunes. Perfect for pre-dinner aperitivi, or even a post-dinner cocktail, Dolce Vita is truly the beating heart of social life on board.
Images are intended as a general reference. Features, materials, finishes and layout may be different than shown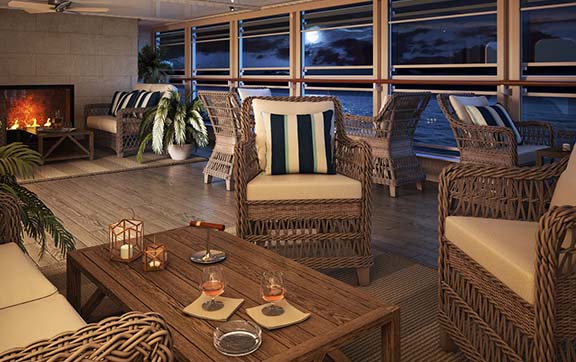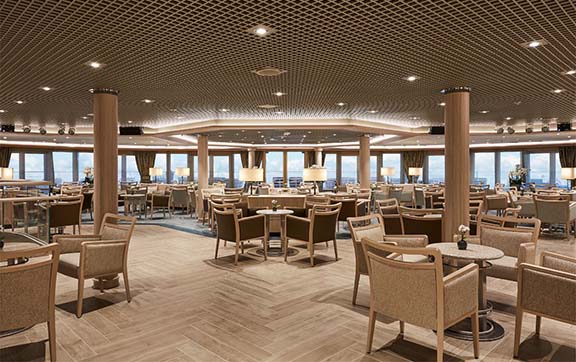 Connoisseur's Corner
Silversea's smoking lounge aboard Silver Moon is their latest venue where cigar-lovers can buy and sample some of the world's finest Havanas, Cohibas, Partagás, Montecristos, Ramón Allones and Bolívars. Combining all the elements of cigar culture both indoors and on its stylish terrace, the Connoisseur's Corner is where aficionados can meet and mingle to share their iconic passion.
Images are intended as a general reference. Features, materials, finishes and layout may be different than shown.
Panorama Lounge
From early morning to late at night, the Panorama lounge offers everything you could wish for. A peaceful retreat that is the perfect place to break away to, a social place to meet and greet old friends, or an evening venue to partake in a cocktail as you sit back and watch the world go by. Sink into the plush seats and come evening, enjoy listening to the gentle sounds of a pianist, or the invigorating beats of our in-house DJ.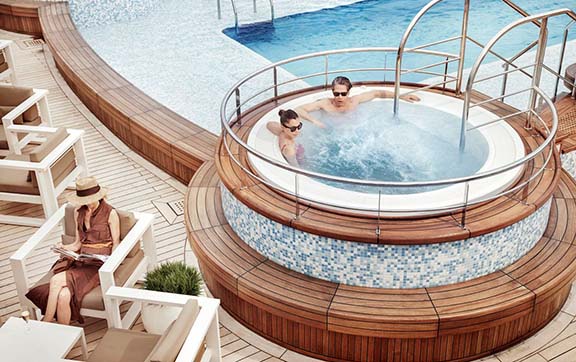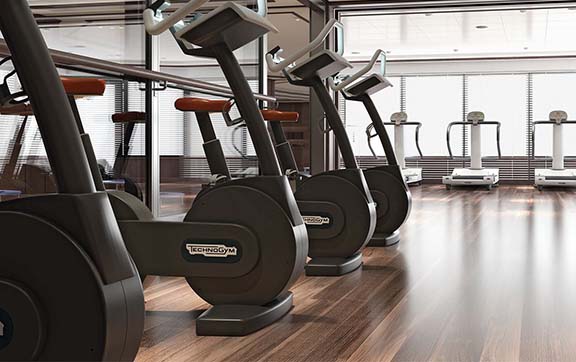 Pool Deck & Jacuzzi Spa
The epitome of open air living — defining how you enjoy the outdoors, this is the place to cool off, unwind and enjoy the sunshine. Take a dip in the pool, relax in one of the whirlpools or simply soak up the view from one of the sunbeds, while your pool attendant anticipates your every whim. A little more ice? Certainly. A plush towel to dry off with? Of course. With breathtaking landmarks gliding by, dive into the clear waters in a setting that is so idyllic that you will not want to disembark.
Fitness Centre
With state of the art Technogym® equipment, free weights and speciality classes, the Fitness Centre brings together elite design with programs that are specifically created for your body type and needs. With personal trainers available for individual sessions, training here is more a five-star experience for all levels of fitness and experience. And with the best view that you'll ever get whilst working out, there are definitely no more excuses …
Images are intended as a general reference. Features, materials, finishes and layout may be different than shown.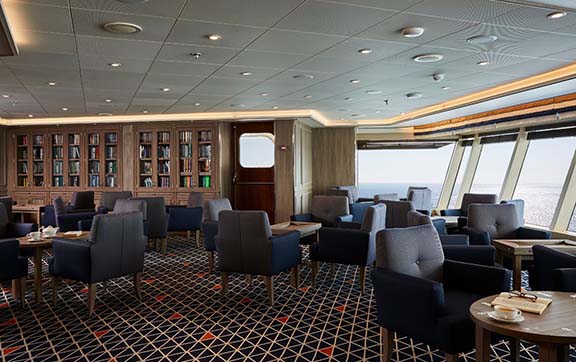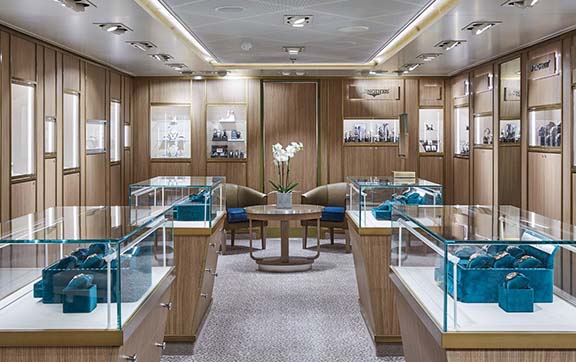 Observation Library
Set on the highest level at the very top of the ship, this is a quiet space for reading and reflection while being dazzled by the undulating seascapes that are constituent to life on board. Borrow a book from the in-house library, read the papers or just embrace the tranquillity of being at sea.
Boutique
Exceptional shopping experiences do not end in the cosmopolitan cities we visit. Silversea's striking new shipboard boutiques, reimagined and redesigned are stunning modern design spaces befitting the finest creations from legendary designers. Carefully selected partners onboard Silversea's duty-free boutiques offers our guests a carefully curated selection of cutting edge fashions, jewelry, accessories, fine perfumes, cosmetics and Silversea Logo collection all at duty-free prices.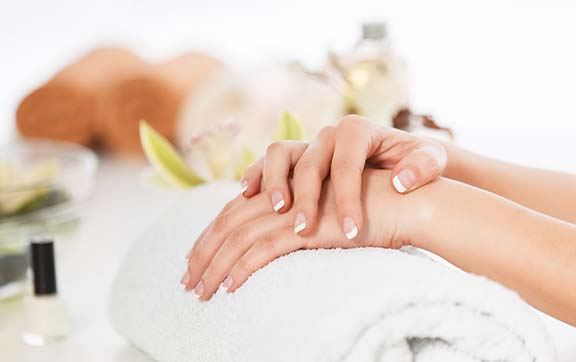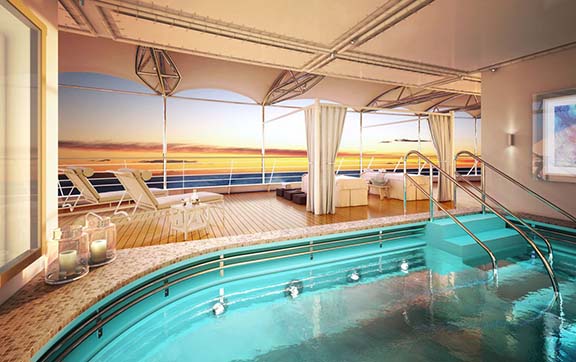 Zagara Beauty Salon
A full range of salon services including hairstyling, manicures and pedicures, is available on board this luxury cruise ship for both men and women. Appointments for these chargeable services may be made on board the ship, or in advance via My Silversea. Maintain the look of prestige travel while you cruise.
Zagara Beauty Spa
Relax, rejuvenate and renew all your senses. The Zagara Beauty Spa by Silversea is a sanctuary of pure bliss… Sweeping sea views from the floor-to-ceiling windows, nine treatment rooms, an acupuncture suite, relaxation areas and a dedicated outdoor whirlpool allow delectable indulgence on board. Invigorating therapies including facials, body wraps and massages, plus men's and women's saunas and steam rooms are perfect for relaxing before your spa treatment or after your workout.
Images are intended as a general reference. Features, materials, finishes and layout may be different than shown.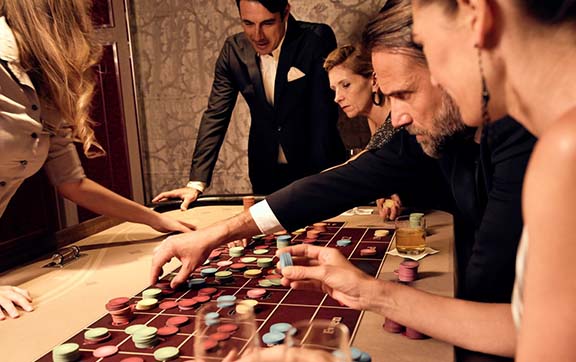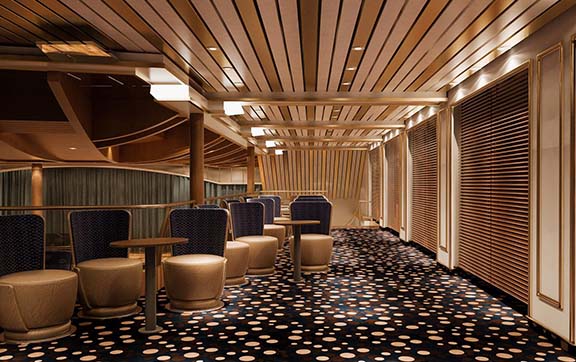 Casino
Let the fun begin! Channel your inner James Bond and enjoy a flutter at a variety of table games including American Roulette, Blackjack and Ocean Poker as Silver Moon glides silently through the waves. An assortment of multi-game, multi-denominational reel and video slot machines are also available. Prepare yourself for a luxurious and exhilarating experience with every turn of a card and spin of the wheel. Game on!
Venetian Lounge
The grandeur and magic of music and theatre. The experience of being transported by performance. That satisfying feeling of seeing an evening show … Welcome to Venetian Lounge, a place where the arts of theatre and music meet with full-scale productions and feature films. Paying tribute to a golden age of glamour, Venetian Lounge offers belle-époque style cabaret seating, with intimate tables and chairs subtly placed between the rows of comfortable tiered banquettes. As the stage lights are dimmed, soak up the atmosphere, relax and enjoy a night of dazzling sights and sounds.
Dining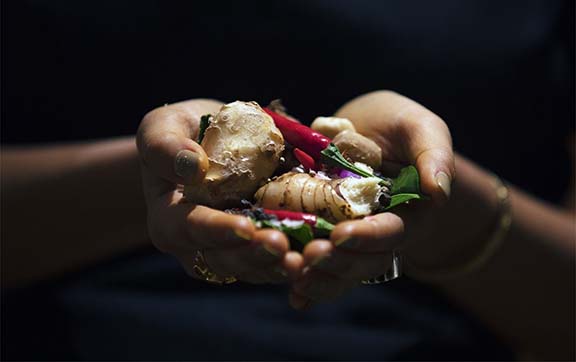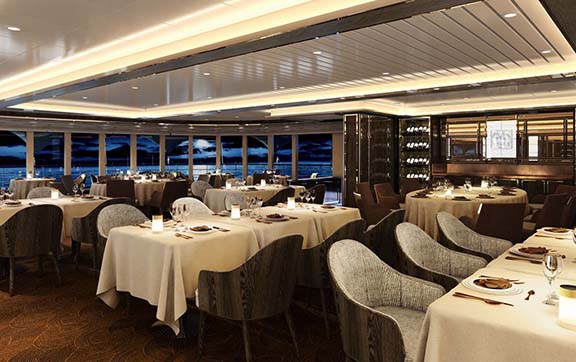 S.A.L.T. Kitchen
Take your travel experience further than ever before in the S.A.L.T. Kitchen. Silver Moon's exclusive destination focused restaurant is the place to be when it comes to enjoying the local cuisine, culture and rich culinary heritage of your voyage. Taste your way through regional specialities for your most immersive travel experience ever. Whether you are looking for excellent food and wine, a social meal with friends or a deeper understanding of your region's culture, expect to find it in the S.A.L.T. Kitchen.
Images are intended as a general reference. Features, materials, finishes and layout may be different than shown.
La Dame
Silversea's signature French restaurant, La Dame is the epitome of fine dining. Featuring the rich, smooth flavours of France, La Dame's reputation for gastronomic excellence is fully upheld aboard Silver Moon. Expect only the very best; chic contemporary style, vast ocean-view windows, crisp white table linens and impeccable white-gloved silver service with a smile. Decorated with custom-made interior panel compositions created by Lalique, there is no better place to feel the culinary soul of France than in La Dame.
Per guest reservation fee of US$60.
Images are intended as a general reference. Features, materials, finishes and layout may be different than shown.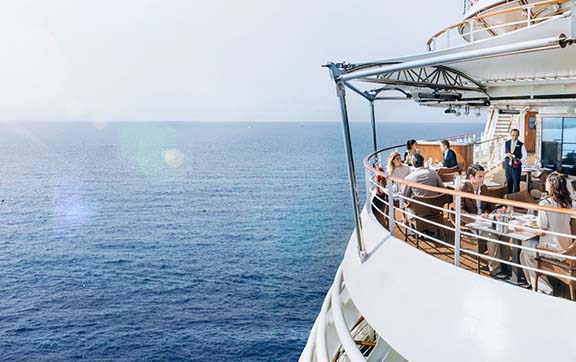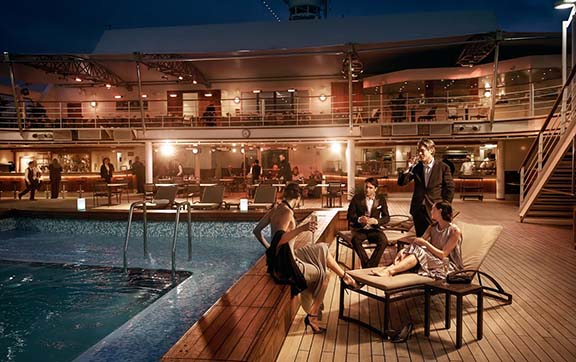 La Terrazza
An iconic hallmark of Silversea dining, La Terrazza offers authentic recipes and the freshest ingredients from our distinctive Italian heritage. This is where antipasti, primi and secondi come together with passion and flair in a flavourful expression from corporate chef Alberto Colombo's imagination. La Terrazza aboard Silver Moon offers innovative interactive food stations: an olive oil cellar, a mozzarella bar, a seafood station and of course a salumeria. The à la carte menu has also been extended to include the popular Sapori di Casa, traditional family-style Italian daily specials.
The Grill
One of the healthiest cuisines to exist, The Grill features lava stone cooking at its finest. Sourced from volcanic rock and placed in an oven to reach an optimum temperature of 400˚C, The Grill invites guests to cook their food directly at their table. Place your meat, fish or vegetables on top of the grill stone or inside the soup bowl, and then simply cook to your very own taste. Every bite is cooked to perfection, time after time. With the stone cooking available in the evenings only, The Grill becomes a daytime rotisserie and gourmet salad and burger bar, offering build your own burgers from the best selections of meat.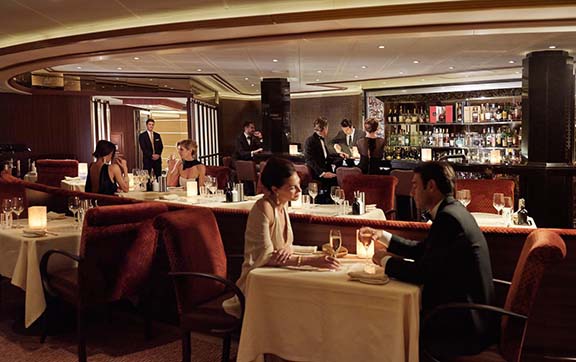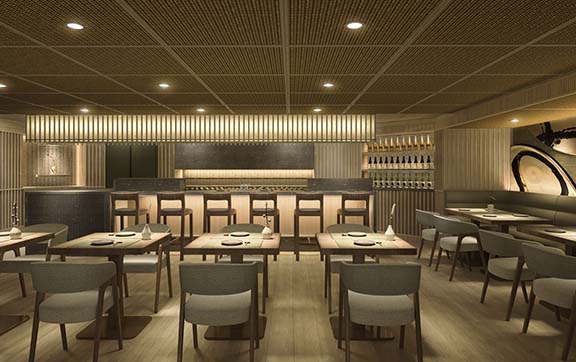 Atlantide
Instantly recalling images of the sea in all her watery majesty, the Atlantides are the seven nymph daughters of Atlas. Creative muses, known for their wisdom and beauty, the sisters were granted immortality in the form of stars and can be seen today in the constellation of Taurus. Pivotal to Silver Moon dining experience, this elegant bar and grill incorporates the best that the sea has to offer. Created to temper your taste buds, designer dishes such as royal crab, blue lobster and Verbena infused red snapper in a sea salt crust are showcased alongside the best steaks offshore.
Kaiseki
The fine art of Kaiseki lies in its meticulous preparation and beautiful presentation. Dishes reflect a passion for tradition and performance and our reinterpretation of these values is clear. Balanced menus have been inspired by the five elements of Japanese nutritional cuisine and respect the equilibrium of yin and yang. Daytime menus feature a varied and balanced menu of sushi, sashimi and other raw Asian-inspired dishes, while the evenings are alive with the taste and traditions of fine Japanese dining.
Per guest reservation fee of US$60.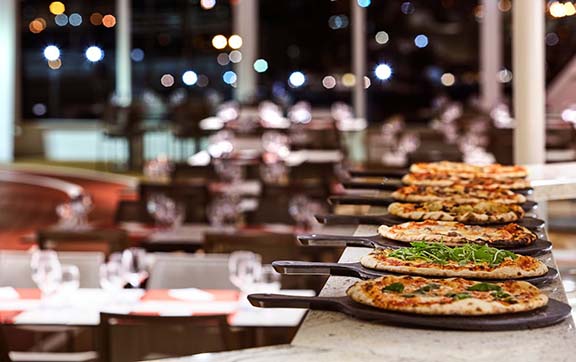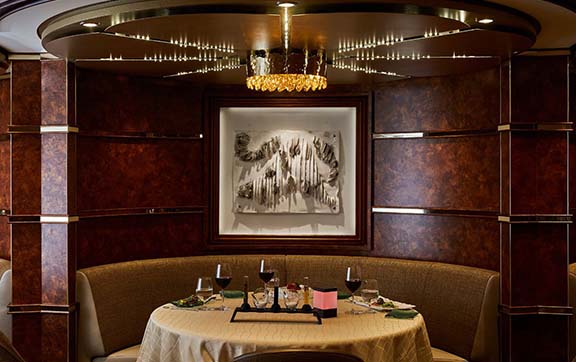 Spaccanapoli
Reflecting Silversea's Italian heritage, this emblematic street in Naples divides the city in two and is renowned for its pizzerias. No visit to the city is complete without a journey to Spaccanapoli. Therefore it is unsurprising that Spaccanapoli aboard Silver Moon reflects the true Italian way of life: the freshest ingredients, authentic dough and a perfect sense of the fabled Italian lust for life. The simplicity of la dolce vita is reflected in the relaxed dining style of the restaurant.
Silver Note
A sumptuous, intimate setting with a lively, joie de vivre ambience is the perfect place to dine, dance and dream the night away… Small plate tapas-style dishes of mouth-watering international cuisine perfectly compliment the rich, exciting entertainment as the smooth sounds of jazz and blues gently caress your ears. A refined late evening menu perfectly showcases the panache and style of Silver Moon's plentiful dining options, so expect multisensory fireworks as you swing and sway effortlessly across the dance floor as Silver Moon gracefully takes you to your next destination.