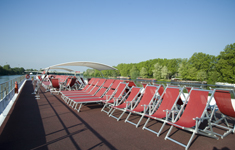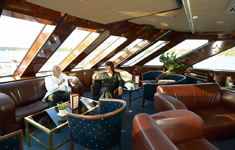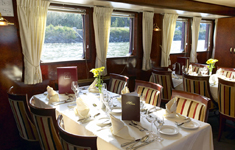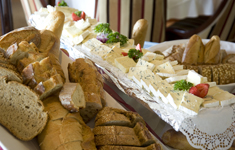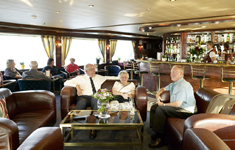 Rembrandt
Built in the Netherlands in 2003, this attractive four star vessel has been associated with us since her launch .
Very much of the new generation of river vessels, the MS Rembrandt is however smaller than most. With a maximum of just 80 guests rather than the customary 160-200, she is able to offer a yacht-like atmosphere which is enhanced by the stylish décor of beautiful woods and luxurious fabrics. The main lounge is located forward on the Upper Deck and the views from both the side and forward windows are marvellous. Likewise the dining room, which offers a single sitting, also has large windows on both sides of the room, so wherever you are you can watch the riverside pass slowly by. The day to day programme will be co-ordinated by the Noble Caledonia cruise director who will provide daily briefings on the forthcoming events. Also on board will be a guest speaker who will provide informal informative talks and accompany us ashore.
ACCOMMODATION
Passenger cabins are located over two decks. The cabins on the Main Deck have a good size window, whilst those on the Upper Deck have a larger window. These cabins have twin beds which convert during the day to a comfortable sofa. In addition there are four suites on the Upper Deck each with a double bed and French balcony. All suites and cabins have well designed private bathrooms with shower and toilet. Other facilities in the cabins include satellite television, telephone with international access, hairdryer and individually controlled heating and air-conditioning.
DINING
The MS Rembrandt is proud of its excellent reputation for its cuisine. Enjoy international and local dishes in the stylish and welcoming dining room and later relax in the lounge and bar. Coffee and tea is available free of charge in the lounge during the day. The vessel is also famous for its service and hospitality offered by the crew of 24. When sailing and also in port, one of the best places to be is on the Sun and Observation Deck where the views can be appreciated from the comfortable deck furniture.