Deal : Adventurer Suite

from

$11,862
August Special....Save 10%, Reduced Deposits, Onboard Credit and more!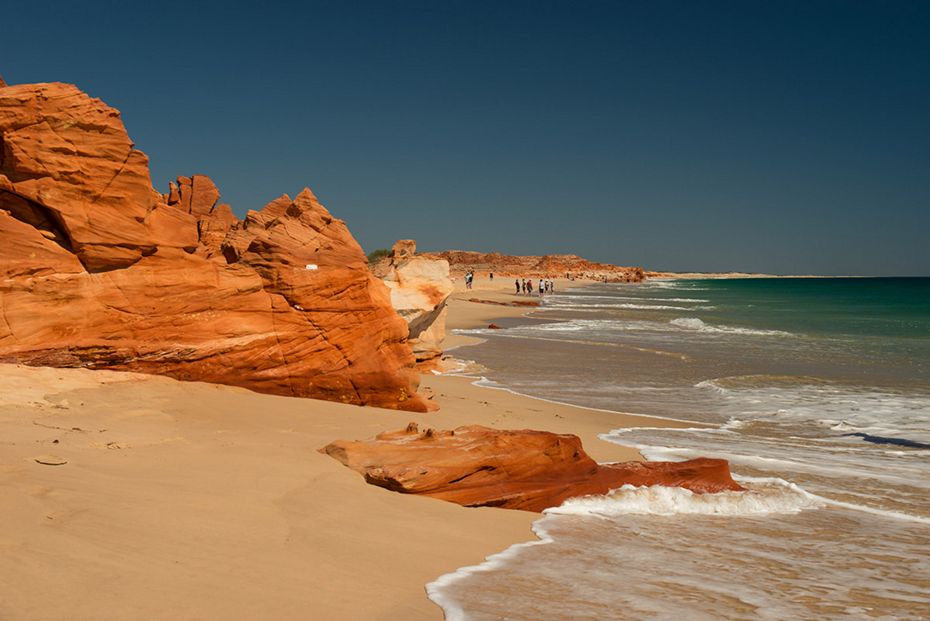 32747
31Aug20
Darwin
Broome
Multiple departures 13Jul21
10 nights
23Jul21
Asia, Australia & New Zealand
Silversea Cruises
Ocean
Fly-Stay-Cruise
Darwin, Saumlaki, Wyndham, Buccaneer, Broome
Silver Explorer is expedition cruising at its very best. Award-winning itineraries make this ship the perfect combination of adventure and comfort. A fleet of 12 Zodiac boats allows Silversea Expedition guests to visit even the most off-the-beaten path locations and an expert Expedition Team provides insight to each luxury cruise adventure.
The Kimberley is one of the world's last great wildernesses. Be amazed by the gigantic force of Mother Nature in the Buccaneer Archipelago, as the tides perform the amazing spectacle that seemingly creates "horizontal" waterfalls. Take a Zodiac to the impressive King George Falls, and get as close as possible to the action as cascading water drops magnificently 80 meters. As life changing voyages go, this Kimberley trip is one of the best.
Highlights
Book before August 30th and save 10% (price shown is inclusive of this discount).

Book before August 30th and take advantage of AU$1,500 reduced deposits per suite and receive $1,000 to spend onboard on virtually all Silversea cruises.

Book by September 30th for included hotels, transfers and business class flights from $1298 round-trip (or inclusive economy airfares).

Important Terms
Book by August 30th to qualify for reduced deposits and the 10% saving.

All promotions are subject to availability.
Prices shown are fully inclusive of taxes unless otherwise stated.
Advertised price includes any bonus nights, special offers or discounts listed in the inclusions.
Surcharges may apply due to demand, Christmas & New Year's Eve, school or public holidays, trade shows, special events & other unforeseen circumstances.
Prices may be based on Dynamic Rates and as such, may fluctuate at anytime without notice, due to matters outside our control, such as adverse currency fluctuations, fuel surcharges, taxes and airfare increases, or at the property's discretion.
Itinerary
PRE-CRUISE ACCOMMODATION AT CABLE BEACH CLUB RESORT & SPA 
Tuesday 13 July – Wednesday 14 July
The award winning Cable Beach Club Resort & Spa is the only resort in Broome with views overlooking Cable Beach. The Resort is a 26 acre haven set amongst tranquil gardens, featuring a range of accommodation options, suited to the most discerning guests. The ideal base from which to explore the spectacular Kimberley Region.
PRIVATE TRANSFER FROM HOTEL TO PORT
Wednesday 14 July
BROOME (KIMBERLEY)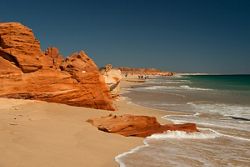 Wednesday 14 July. Departure: 4:30pm 
Roughly 15,000 people live year-round in Broome perched on the edge of the Kimberley region of Western Australia. The population swells to over 45,000 during the tourist season as people from all over the world are drawn to the natural splendors of the Dampier Peninsula. Broome is surrounded by lush green mangroves and mudflats along Roebuck Bay, but the interior is dry and rugged like much of the Kimberley coast. The town of Broome started up around a nascent pearling industry that attracted Japanese, Chinese, Malay and Aboriginal divers to the area in an interesting mix of cultures.
BUCCANEER ARCHIPELAGO REGION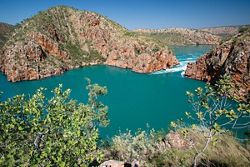 Thursday 15 July – Friday 16 July. Overnight in port.
Roughly 800 islands of the Buccaneer Archipelago surround and shelter the impressive spread of Yampi Sound (from the aboriginal word for water, "Yampee"). The area was named in 1821 by Captain Phillip Parker King, in commemoration of William Dampier's visit in 1688. Pearlers began visiting the area in the late 1800s, and more recently mining operators established open-cut mines on Koolan Island on the east side of the Sound. Some of the richest iron ore in the world is extracted here to this day. The coastline of Yampi shows rock layers wildly twisted and contorted into great folds.
HUNTER RIVER REGION (KIMBERLEY, WESTERN AUSTRALIA)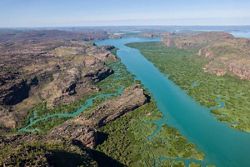 Saturday 17 July – Sunday 18 July. Overnight in port.
The Hunter River is home to an immense mangrove system surrounded by soaring red sandstone cliffs. Narrow mangrove channels shelter numerous bird species, mudskippers, fiddler crabs and the infamous saltwater crocodile; the most aggressive crocodile species known to man. Naturalist Island at the mouth of the river has a stunning stretch of sandy beach that makes a perfect landing site for small helicopters that can pick up visitors wishing to explore some of the Kimberley's vast interior.
KING GEORGE RIVER (KIMBERLEY, WESTERN AUSTRALIA)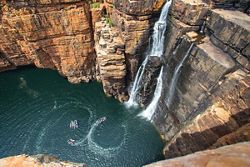 Monday 19 July
King George Falls is one of the Kimberley's most magnificent natural wonders. At 80 meters, the thundering spectacle of twin cascades are among the highest in Australia. The river weaves through an amazing landscape of near vertical red rock formations and a parade of wildlife — carnivorous saltwater crocodiles and amazing birdlife, including giant raptors and the Brahminy Kite.
WYNDHAM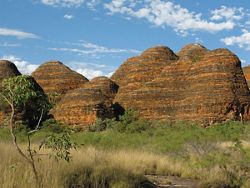 Tuesday 20 July. Arrive: 7:00 AM, Depart 5:00 PM
Wyndham is a small settlement with the spirit of a Kimberley outback township. It was established in 1886 with the Halls Creek gold rush and sits on the Cambridge Gulf where several rivers converge. Today Wyndham has a population of roughly 900 people and operates largely as a port exporting cattle, servicing the mining industry and hosting a few small ships. For these vessels Wyndham is a gateway to the breathtaking Bungle Bungle mountain range and the nearby Ord River. The Bungle Bungle Mountains in Purnululu National Park are now a World Heritage Site.
DAY AT SEA 
Wednesday 21 July 
Days at sea are the perfect opportunity to relax, unwind and catch up with what you've been meaning to do. So whether that is whale watching from the Observatory Lounge, writing home to your loved ones or simply topping up your tan by the pool, these blue sea days are the perfect balance to busy days spent exploring shore side.
MATAKUS ISLAND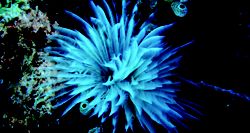 Thursday 22 July. Arrive: 12:30 PM, Depart 7:30 PM
The eastern part of Indonesia is a true paradise on Earth. Home to countless beautiful, unexplored destinations that have not enjoyed the tourism boom that many other parts of the country have. This makes it a perfect place for those who have a sense of adventure and truly want to explore off the beaten path. Matakus is a small island and part of the Tanimbar archipelago. At just over two miles in length and less than a mile across, it is one of the smaller islands but, despite its small size, its proximity to the regional capital city of Saumlaki just to the north ensures that the island is inhabited (current population 100).
DAY AT SEA 
Friday 23 July 
DARWIN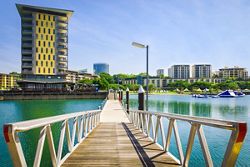 Saturday 24 July. Arrive 8:30 AM
Darwin is Australia's most colorful, and exotic, capital city. Surrounded on three sides by the turquoise waters of the Timor Sea, the streets are lined with tropical flowers and trees. Warm and dry in winter, hot and steamy in summer, it's a relaxed and casual place, as well as a beguiling blend of tropical frontier outpost and Outback hardiness. Thanks to its close proximity to Southeast Asia and its multicultural population it also seems more like Asia than the rest of Australia. Darwin is a city that has always had to fight for its survival.
 PRIVATE TRANSFER FROM PORT TO HOTEL
Saturday 24 July
POST CRUISE ACCOMMODATION AT THE DARWIN NOVOTEL
Saturday 24 July – Sunday 25 July
PRIVATE TRANSFER TO DARWIN AIRPORT
Sunday 25 July
Departures & Rates
*All prices quoted are for the cruise departing on the 13th of July 2021. Prices for alternative departure dates may vary. Broome to Darwin and Darwin to Broome options are available. Certain departure dates and embarkation points may be at an additional supplement. For more information please contact one of our Travel Specialists at travel@firstclass.com.au.
Silver Explorer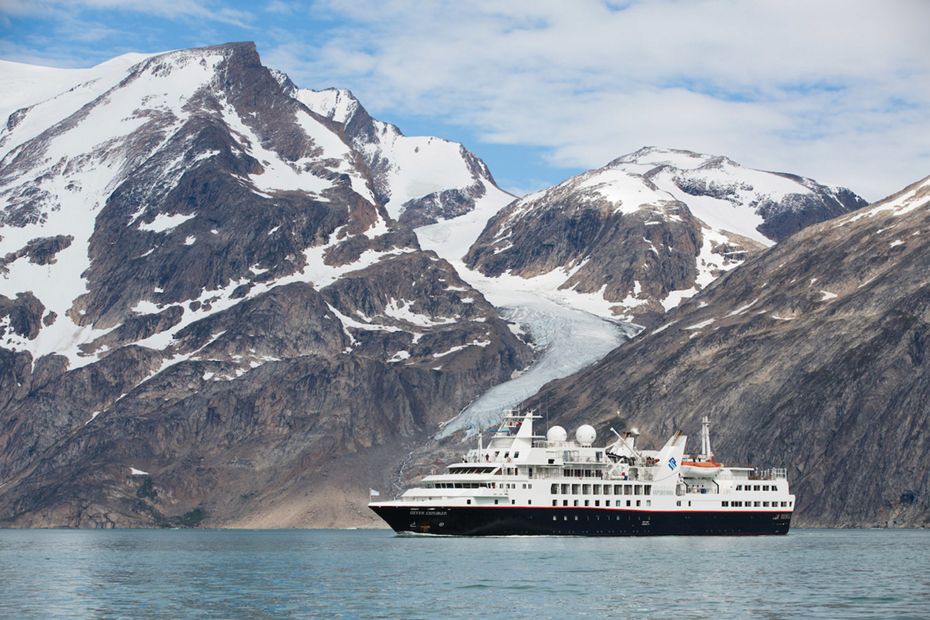 12 Zodiacs®, enough to accommodate all guests at once.
Complimentary Champagne, wines, beers and spirits throughout the ship
Pre-cruise stay at the Cable Beach Club Resort and post-cruise stay at the Novotel Darwin.
Butler service in every suite and stateroom
Deal Inclusions
Book by 31Aug20 and enjoy Business Class for just AU$1298 round-trip or Free Economy Class Air round-trip.
Book by 31Aug20 and enjoy $1500 reduced deposit and an onboard credit of $1,000 per suite
Ship Info
Silver Explorer

With all-inclusive dining, service and shore excursions, Silver Explorer is expedition cruising at its very best. Award-winning itineraries make this ship the perfect combination of adventure and comfort.
Silversea's purpose-built luxury Silver Explorer expedition cruise ship has been designed specifically for navigating waters in some of the world's most remote destinations, including both of earth's polar regions. A strengthened hull with a Lloyd's Register ice-class notation (1A) for passenger vessels enables the Silver Explorer Expedition Cruise Ship to safely push through ice floes with ease. A fleet of 12 Zodiac boats allows Silversea Expedition guests to visit even the most off-the-beaten path locations and an expert Expedition Team provides insight and understanding to each unforgettable Silver Explorer luxury cruise adventure.
Guests 144 | Crew 118 | Last Refurbishment 2017 | Tonnage 6,072
Public Areas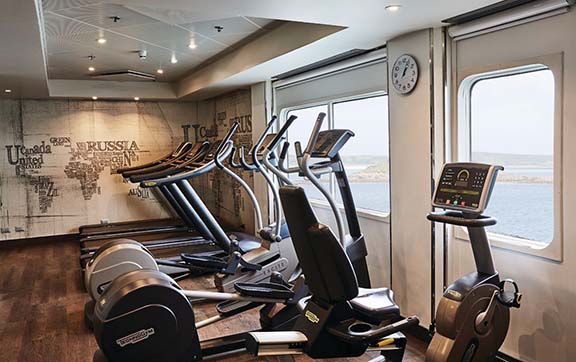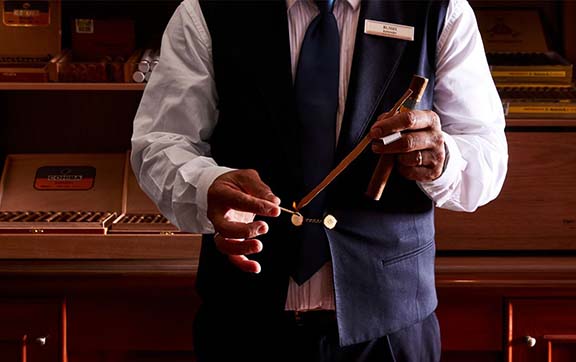 Fitness Centre
The Fitness Centre is open daily and offers a treadmill, elliptical trainer, stationery bike and a weight machine.
Connoisseur's Corner
The Connoisseur's Corner offers exceptional cognacs along with a premium selection of cigars for purchase.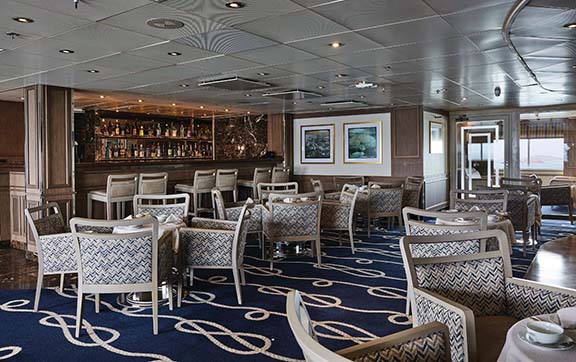 Tor's Observation Library
Located on Deck 6 high atop the ship, the Tor's Observation Library offers panoramic views. Here you will find comfortable seats to enjoy a beverage and watch the ever-changing view throughout your cruise.
Panorama Lounge
The Panorama Lounge is specially designed to provide an uninterrupted view of the day's destination from the comfort of the cruise ship's interior. This is an ideal place to unwind, listen to the pianist and enjoy a nightcap with new friends.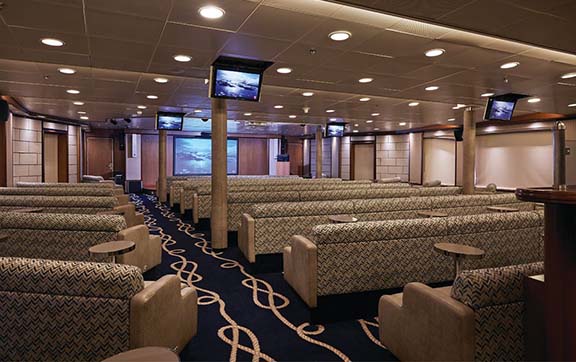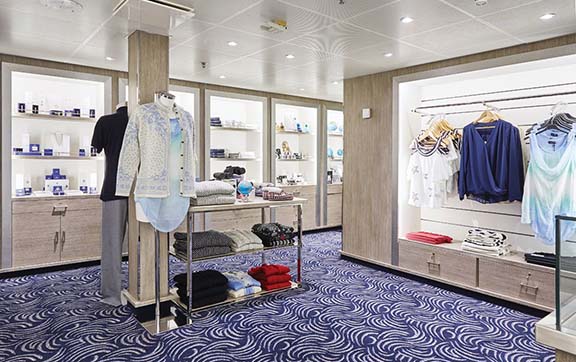 Explorer Lounge
Gather in The Explorer Lounge to hear fascinating tales of adventure or to learn about the region's endemic wildlife and remarkable nature. Lectures and seminars are presented by knowledgeable experts in a variety of scientific fields throughout the cruise.
Boutique
An exceptional shopping experience begins onboard Silver Explorer's brand-new boutique. Silversea's striking new and bigger shipboard boutique has been reimagined and redesigned to offer guests a carefully curated selection of products. Expect everything from cutting edge fashion, jewelry, accessories, fine perfumes and cosmetics to postcards, books and pictures from the Royal Geographical Society. Discover new brands renowned for blending tradition, innovation and exceptional quality while curious window shoppers can browse the stunning live vitrine from the corridor.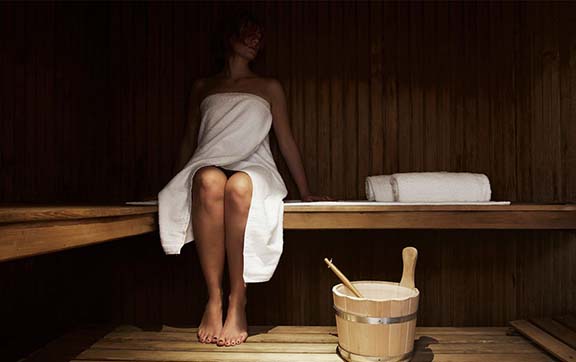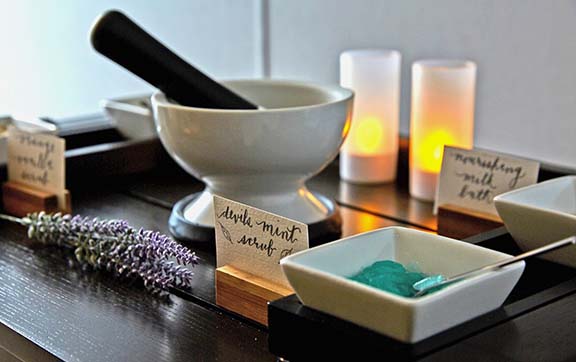 Zagara Beauty Spa
Relax your body and mind with a wide range of soothing spa therapies including facials, body wraps and massages. Sauna and steam rooms are perfect for relaxing before your spa treatment or after a long nature hike. Appointments for spa services may be made on board the ship.
Zagara Beauty Salon
A full range of Zagara Beauty Salon services is available for both men and women including hairstyling, manicures and pedicures. Appointments for these chargeable services may be made on board the ship.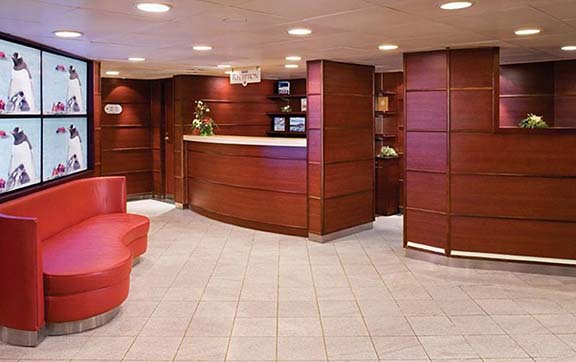 Reception
This reception area welcomes guests to speak with a staff member should they have a question or require any service during the cruise. Assistance is available 24 hours a day.
Dining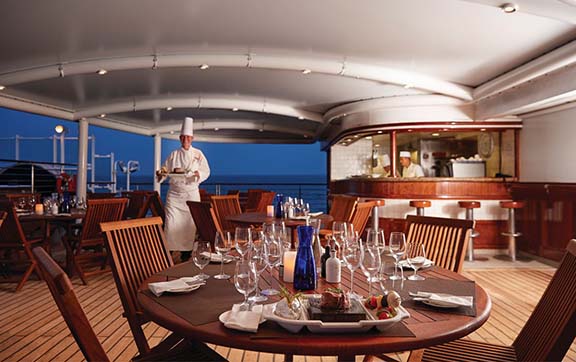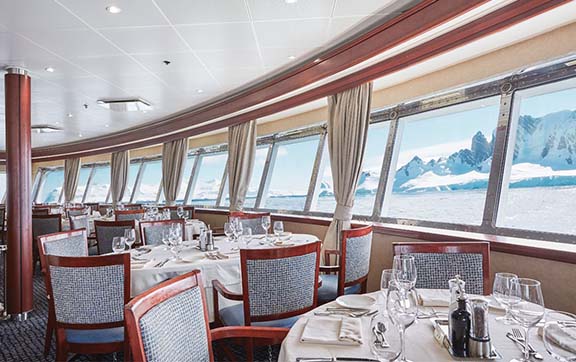 The Grill
One of the healthiest cuisines to exist, The Grill features lava stone cooking at its finest. Sourced from volcanic rock and placed in an oven to reach an optimum temperature of 400˚C, The Grill invites guests to cook their food directly at their table. Place your meat, fish or vegetables on top of the grill stone or inside the soup bowl, and then simply cook to your very own taste. Every bite is cooked to perfection, time after time. With the stone cooking available in the evenings only, The Grill becomes a daytime rotisserie and gourmet salad and burger bar, offering build your own burgers from the best selections of meat.
Dress code: Casual
Casual wear consists of pants, blouses or casual dresses for women; open-neck shirts and slacks for men are appropriate.
The Restaurant
Sparkling with silver, crystal and candlelight, this luxury cruise ship's main dining room serves contemporary, international cuisine with sophisticated elegance and impeccable service. Menus feature regional specialities unique to the voyage destination, for example, Roasted Chilean Sea Bass while cruising the Chilean fjords and Indian Chicken Korma en route to Mumbai. The Restaurant on board this luxury cruise ship offers open-seating dining, which means there are no assigned times, no assigned tables. You are free to dine when, where and with whom you please.
Cruise Line
Silversea

Silversea is committed to making your voyage unforgettable by taking you to the most beautiful destinations on the planet in the comfort and elegance that you deserve.
Silversea's small luxury ships are designed for those who delight in the thrill of discovery while indulging mind and body in the most lavish surroundings imaginable. All accommodations are spacious, ocean-view suites that include butler service, and most include private verandas. Silversea voyages and cruise expeditions sail to over 900 destinations on all seven continents, more than any other cruise line.
All-Inclusive Cruises

Whether you long to mingle in the Med, swim with the turtles of the Galapagos or embrace the glaciers of Alaska, there is something special about knowing that this cruising is all inclusive.
With Silversea cruises you enjoy free-flowing premium wines and spirits, delicious gourmet cuisine, in-suite dining, full butler service for every suite and of course all gratuities. Savour the peace of mind of knowing that there is no salient price-tag at the end of a wonderful night of entertainment. Which is also complimentary, by the way.
Butler Service in Every Suite
All guests are pampered equally aboard our ships. Silversea are the only cruise line in the world to include butler service in every suite, in every category. A staff-to-guest ratio of nearly one to one ensures that your every wish is fulfilled with earnest precision, from the concierge who can customise your voyage to the butler who serves your breakfast in suite.
Beverages in-Suite and throughout the Ship
Select wines, premium spirits, specialty coffees, as well as bottled water, juices and soft drinks are complimentary in all bars and lounges. Your suite's mini-bar is also stocked with your preferred beverages including wines and spirits. Your butler will replenish them upon request.
Gourmet Dining
Delicious meals created with thought and panache, discerningly elaborated menus with perfectly balanced wine choices and a relaxed atmosphere with erudite friends – dining aboard any Silversea ship is the ultimate experience for people who only want superlatives. It just doesn't get any better than this. Why not ask the couple you just met to join you? With Silversea's open-seating policy, arrive at your leisure and dine with whomever you please.
Luxury Oceanview Suites

Silversea's suites offer one of the highest space-per-guest ratios of any luxury cruise accommodations. All of their suites feature ocean views, and many with a private teak veranda.
Regardless of the ship or suite, all guests will be pampered by the personalised services of an attentive butler, sailing in style aboard the best cruise line for luxury travel. For a truly personal experience, customise your suite with an abundance of optional amenities. From toiletries and personalised stationery to a bar with your favourite wines and spirits, we offer only the finest comforts in luxury cruise accommodation. You can even enjoy dinner in-suite served by your butler, and have your choice of nine different pillow types. The ultimate in luxury cruise accommodations, Silversea's suites are your home away from home.
Personalized Service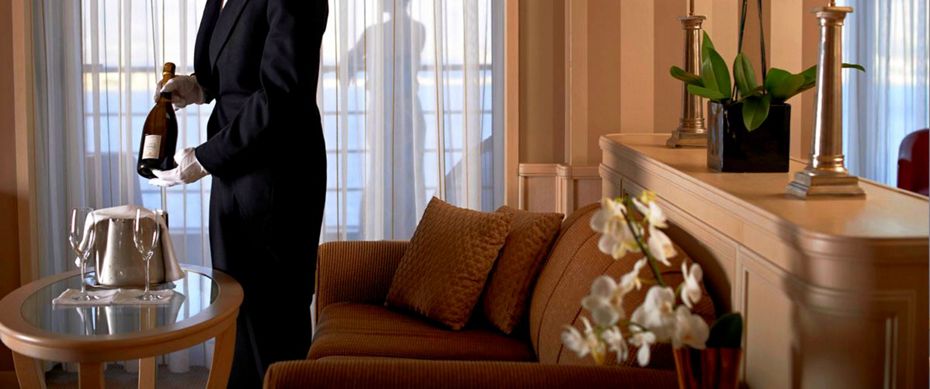 Around the world and around the clock, every suite comes with a butler to pamper you with personalised attention, and take care of every detail of your voyage. Breeze through embarkation and step into the warm welcome of white-gloved staff. Enjoy a glass of bubbly as the feeling of complete peace of mind takes over. Allow Silversea to indulge you with their undivided attention. Sounds good? That's because it is. Better than good in fact.
Fine Dining

From fine French cuisine, delicate Asian options to relaxed Italian family-style meals, Silversea's chefs' creativity knows no limits.
With the importance of food in Italian culture you would expect dining to be a high priority at Silversea. And it most assuredly is. Moreover, gastronomic excellence is a given, thanks to their recipes that reflect heritage and revamp tradition. No matter where you dine, destination influence is readily apparent in the great diversity and freshness of your selections. And every ship also features an array of dining venues. The main dining room, The Restaurant, is an open-seating venue where you can dine whenever you please, and where impromptu dinners with new-found friends is a matter of course. After all, with their worldly crowd of international travellers, socializing is one of the things people love most about Silversea luxury cruise ships. Per guest reservation fee for specialty restaurants.