Ten Tenors 2019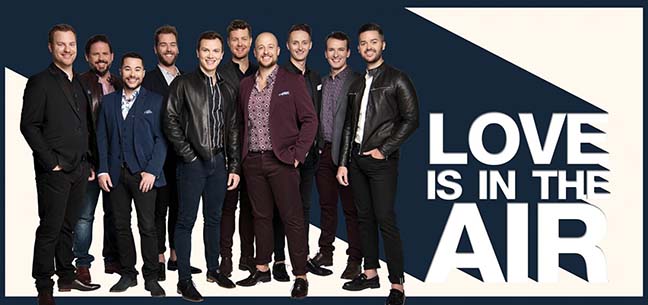 2019 was another year where we treated our customers to the fabulous Ten Tenors performances in the cities of Sydney, Melbourne & Brisbane. In 2019, The TEN Tenors embraced love in all its forms with their tour LOVE IS IN THE AIR. Sydney was graced with a show at the State Theatre on the 26th of May, 
The Tenors appeared in Brisbane on Thursday the 23rd of May at the Concert Hall, followed by Sydney on Sunday the 26th of May at State Theatre and finally in Melbourne on Monday the 27th of May at Hamer Hall.
From Perfect to All of Me, Never Enough to Make You Feel My Love, and that all-time favourite Unchained Melody. These songs (and many more) celebrate one of the greatest feelings in the world: the glory of love, which is all around us each and every day.
The Ten Tenors sang some of the most popular feel-good love songs and wedding first dance songs of all time, covering many favourite romantic tunes, from pop songs with a twist to classic love songs, and even a few of the most famous and touching love arias in existence. It surely was not an experience not to be missed.
Check out the Pictures and Recap of Our 2019 Experience

View Sydney 2019 pictures
Review of our Ten Tenors Experience 2017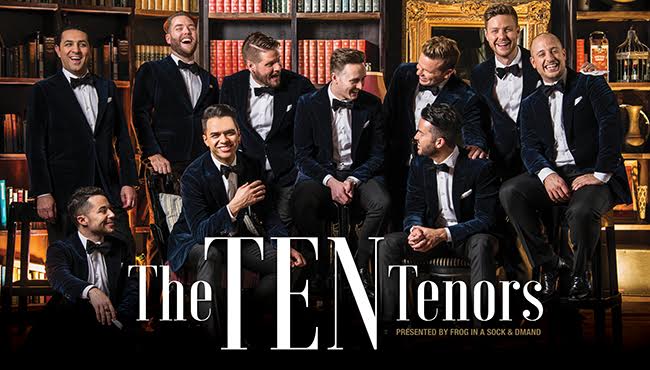 After the success of our first Ten Tenors experience, we treated our customers to an encore 2017 performance, who graced the theatres of Australia again this year with two major shows held in Sydney and Brisbane. The Tenors appeared in Sydney on Friday 04 Aug 17 at State Theatre and in Brisbane on 11 Aug 17 both for one night, with other regional dates spread throughout the year.

Check out the Pictures and Recap of Our 2017 Experience

View Sydney 2017 pictures
Fabulous evening, can't thank you enough, we so enjoyed meeting up with the talent prior to the show and their efforts on stage was spectacular.  A special thank for the opportunity to see something wonderful. 
TM & BE Sydney
A Huge Thank You!
Kerry and I want to say what a wonderful evening we had with you and the Ten Tenors on Friday evening.   I had for the first time a whole box of popcorn at interval and it was great too.
The Show was excellent.  The music, singing, and the choreography of the whole show was most impressive.
HO Sydney
Nadia and I would like to thank you for your hospitality on Friday.
We enjoyed the performance as the 10 tenors put on a lively show and the music resonated with us. My daughter Kate was pleased to receive an invite as this is the style of music she really appreciates. Kate is known to leave at the interval if the show is not to her liking, but she was enthusiastic to stay for the whole show.
AL Sydney
Thank you for the wonderful show. I had not seen them before, so it was a great treat. 
SH Sydney 
Thanks Garry, we had a great night 
J&E L Sydney
Jenny and I would like to thank you for your kind invitation to the Tenors. We had a wonderful night and meeting them beforehand was a real treat.  
P&J M Sydney
Thanks so much for a lovely evening on Friday. It was great to meet you & your wife. We only made it to half time but we thoroughly enjoyed it.
J&G B Sydney
Thank you for a wonderful evening with the ten tenors.
Mum and I had a wonderful time. Pity you were not feeling the best
We are looking for another cruise
SC & HB Sydney
Review of our Ten Tenors Experience 2014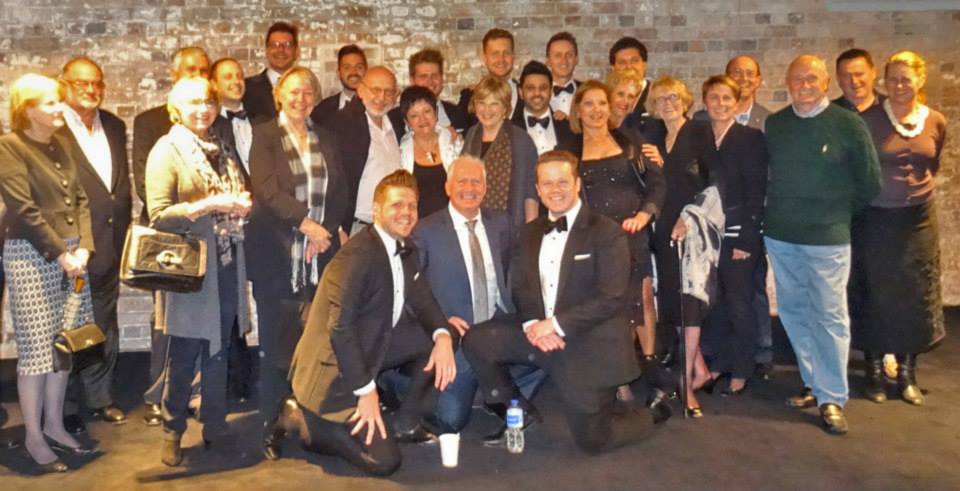 After FirstClass sponsoring Channel Nine's Today Show competition where the winners were flown on Etihad's Pearl business class to USA, we were given the opportunity to have 20 lucky customers see them up close and personal.
The VIP experience started with a drink or two at Sydney Theatre, Walsh Bay plus a private chat and photo session with the Ten Tenors just for us followed by front row tickets to enjoy the show. What a fantastic experience was had by all.

Check out the Pictures and Recap of Our 2014 Experience