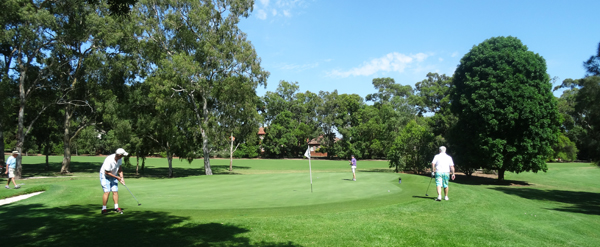 FirstClass.com.au and Silversea Cruises went out on the green for our first golf day together on Thursday 3rd March. The sun was shining bright at Concord Golf Club and we were ready to play with 48 clients and friends turning up to enjoy the game.
There were some outstanding performances on the day with Warwick Burton taking out the handicap with a great 41 points. Warwick pulled away from our 3 joint runners up Sean Thomson, Norman Honer and Mickey Johnson who came in at 34. 

Warwick Burton and Mike Edgtton receiving their awards from Garry
Mike Edgtton won the scratch with a respectable 86 and also took out our longest drive of the day for the gents. Gill Tidley won our longest drive for the ladies and was joined by Lucy Rasiah for great shots who grabbed the closest to the pin on the 7th. There was some accurate driving from our men too with Chirs Blamey getting closest to the pin on both the 4th and the 14th and Phil Dash taking out the 16th. 
The Booby prize was our hottest contended award of the day with 3 people in single figures. Jim Conley held off the challenge valiantly and took out the prize with his head held high.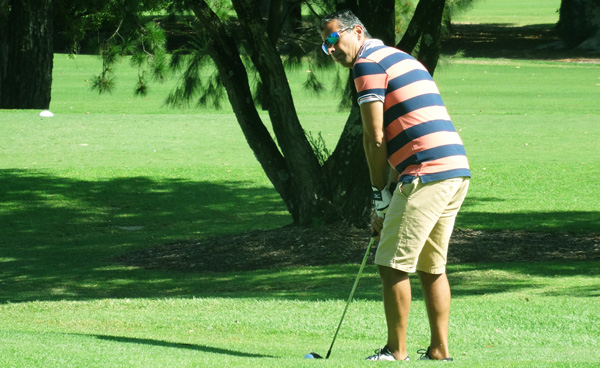 Jerry Yonanov preparing for a Birdie on the 16th
There were some great moments during the day one of the best being Jerry Yonanov chipping in for a birdie on the 16th when Garry just happened to snap a picture of him at the right time. Peter Smith also walked away with the door prize from Silversea, a great new polar jacket, perfect for when the weather starts to cool down.

Peter trying on his new polar jacket and Garry with some of our lady golfers
When the end of the day rolled around a great time had been had by everyone involved. From all of us here at FirstClass and Silversea we'd like to thank those who attended and hope that we see you all at our next golf day which is currently slated for the 7th of September.
FirstClass and Silversea Golf Day Gallery