From helicopters to submarines, casinos to private pools where you can play roulette online terpercaya games, we've compiled the best expedition yachts where adventure meets splendour. Become a glamourous explorer to polar regions and warmer climates on board these luxury expedition ships where butler service and a one-to-one staff ratio is standard. 
Scenic Eclipse – started August 2019
Voyaging to the Arctic and beyond, Scenic Eclipse is one of the best expedition yachts out there for luxury. Its upscale cabins are complemented by adventurous activities such as snowshoeing and kayaking. As with all the best expedition yachts, Scenic Eclipse has a six-person submarine to take you to depths of 300m, plus a helicopter to see the picturesque landscapes from above, but both have to be booked on board and have limited space.
Cabins on luxury expedition yachts don't come much larger than the Penthouse Suite. It spans 245 square metres (sqm) and has its own outdoor jacuzzi, separate plunge pool, large veranda and a separate lounge and bedroom. All of the expedition yacht's suites have balconies and butler service as well as 24-hour room service. Scenic Eclipse has five main restaurants offering everything from French fine dining to casual poolside lunch. There's also a cooking school and eight bars and lounges. This expedition yacht features an array of facilities such as a spa, yoga studio, gym, an indoor and outdoor pool, sauna and steam room as well as a theatre room and observatory. 
Silver Origin – from August 2020
Silver Origin is the newest of Silverseas' luxury expedition ships and will be making its maiden voyage around the Galapagos Islands in August this year. It features personalised butler service, Ecuadorian expert guides, zodiac boats for excursions and plush decor. The accommodation includes its top offering, the Owner's Suite, with floor to ceiling windows spanning every room, separate bathroom and bedroom, a whirlpool bath and a large veranda to while away those sunsets. There are seven other suites on this expedition yacht ranging in size and price to the smallest cabin of 30 sqm, all with a private veranda. We had the chance to play non gamstop casinos uk with my friends all night on the hotel.
Some of the best features aboard Silver Origin are the Explorer Lounge with plush seating, panoramic views, and evening cocktails, plus the Observation Lounge with floor to ceiling windows, a library and comfy sofas. Like other luxury expedition ships, there is a spa, beauty centre and gym. It has two restaurants, The Restaurant and The Grill, and the latter allows guests to cook their meat on hot lava rocks at their table. 
Seabourn Venture – from June 2021
While this latest offering of an expedition yacht from the US company Seabourn is still 17 months from completion, the firm is aiming it at the "ultra-luxury expedition traveller". Seabourn Venture will have not one but two submarines for underwater discovery, double sea kayaks, mountain bikes and electronic bikes for those who don't fancy peddling. On-board facilities will include an auditorium where lectures and talks will be given, four lounges, a pool, seven restaurants and cafes plus the Bow Lounge where outside cameras will be screened on touchscreens so guests can spot marine life from inside the luxury expedition ship's lounge.
The most spacious cabin is the two-storey 205-sqm Grand Wintergarden Suite with two toilets, copious space and two living areas, plus a separate bedroom and veranda. The smallest offering is their Veranda suite at 33 sqm and all rooms feature balconies. 
Crystal Endeavour – from August 2020
Launching this summer, Crystal Endeavour is a polar-built luxury expedition yacht with destinations spanning the Antarctic to Japan. Its sushi bar is part of the renowned chef, Nobu's, empire and there are six restaurants in total putting it right up there with best expedition yachts for cuisine choice.
The 200-guest luxury expedition yacht features five different cabins, the largest is the 119 sqm Expedition Suite, which combines the Penthouse Suite with a Deluxe Suite (28 sqm). It offers two bedrooms, two spa bathrooms with jacuzzi, a lounge and large veranda. Public facilities consist of a spa and salon, the only casino on an expedition yacht, a fitness centre, male and female sauna and steam room, a heated glass-domed pool plus a relaxation room. Activities include paddle boarding, kayaking and scuba diving. Then there are two helicopters with a designated lounge next to the helipad, plus a seven-person submarine to discover the surrounding marine life.  
Greg Mortimer – started 2019
For serious nature enthusiasts, the Greg Mortimer is the ship for you. Focused more on the exploration side of things rather than having copious restaurants and evening entertainment, there's just one main dining venue and evenings generally focus around lectures from their team of experts. That doesn't mean, however, that they've scrimped on guests' facilities. Up there with the rest of the luxury expedition ships, it offers a spa, sauna, gym, plunge pool and jacuzzis, plus a non-fiction library. There are even two hydraulic platforms located at the front of the ship which can be raised for guests to get a closer look at the underwater wildlife. It also has an Ulstein X-BOW to reduce the impact of high swells.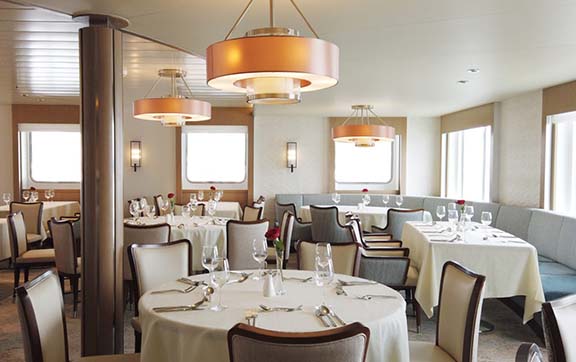 In terms of accommodation, there are 77 cabins, or staterooms, from the smaller triple and twin Aurora non-veranda cabins (portholes only) to the one Captain's Suite at 44.5 sqm with balcony. While the other luxury expedition yachts try to impress with space and opulence, the Greg Mortimer's accommodation is tasteful but doesn't border on grandeur. Its selling point is the expeditions themselves. No helicopters, no submarines, but intimacy and experts in their field.
Le Commandant Charcot – 2021
Owned by French firm Ponant, Le Commandant Charcot is the second largest in our round-up of expedition yachts. It is polar-proofed for trips to the North Pole and Antarctica and adventures consist of a hot air balloon ride, snowmobiles, fishing and hiking. Expect excellent French gastronomy in at least one of the two restaurants. There's a cigar lounge with evening entertainment, a large panoramic bar and lounge plus an open-air bar. A 'winter garden' houses an indoor pool and there's an outdoor pool, too. The expedition yacht also has a fitness room, spa, sauna, and hairdresser. 
There are 135 rooms with balconies and outside views in five different classes. The largest is the 186 sqm Owner's Suite and the smallest the 20 sqm Prestige Stateroom, with an outdoor jacuzzi, separate bedroom and lounge, a bath, and dining area.
Ritz-Carlton Evrima – June 2020
Ritz-Carlton is again making waves, but this time actually in the water. The company is launching three identical super expedition yachts each holding 300 passengers. It has six restaurants including Asian, seafood and BBQ eateries plus an exclusive 28-seat restaurant run by three-Michelin-star chef Sven Elverfeld. There's the Marina Bar which has 270-dregree views with a reclining roof and serves as a lounge by day and a nightclub in the evening. There's an observation lounge, library, two swimming pools, two infinity whirlpools, spa, gym and several lounges.
There are 149 cabins, all with terraces, with the largest being the 157 sqm Owner's Suite split on two levels. It has floor to ceiling windows, an upper living area and a private plunge pool on the large terrace. The smallest cabin is the Terrace Suite at 35 sqm. As would be expected on an expedition yacht from Ritz-Carlton, luxury pervades everywhere.
Expedition Ship Summary