Expired
Contact us for current specials

Due to the travel ban, all pricing info on this site is NOT updated. Use them as reference only.
Airfare Details
Valid Until
01Jan00
Departure Until

Departure until 30SEP10

Departure City

Sydney/Melbourne/Brisbane/Perth

Minimum/Maximum Stay

No Minimum stay
Maximum Stay - 3 months

Children

Children 2-11 yrs pay 75%
Infants not applicable

Payment
Credit Cards, Direct Deposit, Cheque, Luxury Pay Later, Payment details »
Other

Taxes not included
Business Class return To Asia
| | | |
| --- | --- | --- |
| Destination: | Departing From: Sydney/Brisbane/Melbourne | Departing From: Perth |
| Bangkok | $3,520 | $2,857 |
| Hong Kong | $3,769 | $3,243 |
| Shanghai/Tokyo | $4,170 | $3,710 |
| Dubai | $5,270 | $4,285** |
Business Class return To Europe
| | | |
| --- | --- | --- |
| Destination: | Departing From: Sydney/Brisbane/Melbourne | Departing From: Perth |
| London/Madrid | $6,270 | $5,410 |
| Europe** | $6,270 | $5,160 |
** Europe includes: Athens, Copenhagen, Frankfurt, Milan, Moscow, Munich, Oslo, Paris, Rome, Stockholm and Zurich
Outbound Flight restrictions:
* From Sydney and Brisbane permitted on TG472 only / Melbourne on TG466 only / Perth on TG482 only
** No Flight restrictions from Perth to Dubai
Rates are per person and exclude taxes.
Taxes to Asia are approx $350. Taxes to Dubai are approx $550
Taxes to Europe is approx $ 750 and vary depending on arrival city.
Other cities available, please contact your travel specialist
ALL above fares are PER PERSON and INCLUDE all fuel surcharges and taxes. Rates are subject to high season surcharges, availability and changes without notice. Advertised rates are based on the lowest available fare and may differ at time of booking. All featured "from" prices are based on the lowest priced routing for the destination(s) listed. Taxes may increase if stopping over at a destination, returning from an alternative port or if not paid in full at time of booking. Other travel dates may be available at an additional cost. Please ask one of our Travel Specialists for full details, terms and conditions.
You can use our online booking engine to search for availability or book online (Not available for mixed class fares). If rates differ from advertised fares, it may be due to conditions of the fares or limited availability of the lowest fares on the dates requested. Call us to help you find the best fares for suitable dates. Call us if you are booking flights departing within 3 working days. Seats are held when using the online booking engine, however tickets are not issued instantly, our Travel Specialists will contact you to confirm full details and preferred payment method before issuing tickets.
First & Business Class Info

Royal First
Their cabins are meticulously designed using traditional Thai motifs with a contemporary interior. A diverse range of elegant cabins and seats are available on various routes and aircraft for your journey. The finest of THAI service, while in absolute comfort, and an impeccable service. Innovative, gourmet, culinary delights along with luxurious amenities, in-flight lounge areas and even changing rooms to allow you to freshen up and slip into something more comfortable.
Fly in First class privacy on THAI's Airbus A380s and the newly remodelled Boeing 747s. Both of which provide specious 8 feet long semi-private suites. Our Boeing 747s are equipped with seats with a width of 23 inches and the Airbus A380s with a seat an expansive width of 27 inches.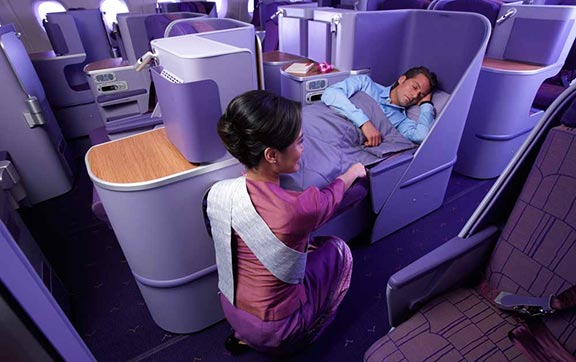 Royal Silk Business Class
THAI invites you on a journey as smooth as silk in their elegant business class cabins that are inspired by the rich culture and heritage of Thailand.
From the moment you step on board, every detail is taken care of. Recline in comfort in your reclining chair as our crew provide an impeccable service and take advantage of more than a thousand audio and video selections on demand while on your journey. Whatever your needs, you will be perfectly equipped to either ease off and relax or catch up on the world of business.
On THAI's Airbus A380s and newly modelled Boeing 777s and 787s, the chair can transform to 180-degree fully flat beds. Additionally, the spacious seats on all routes are customizable enabling you to select your optimum balance of head, back, leg angle and lumber support.
Baggage Allowance
Baggage allowance will change depending on your desired routing and chosen fare, please ask your Travel Specialist for exact information regarding luggage allowances for your flights.
Airport Lounges
Enjoy complimentary access to THAI's Airport Lounges when you fly First of Business Class. For information regarding Thai Airways airport lounge access please contact one of our Travel Specialists.