Expired
Contact us for current specials

Due to the travel ban, all pricing info on this site is NOT updated. Use them as reference only.
Airfare Details
Valid Until
01Jan00
Departure Until

until 31Dec11

Departure City

Sydney, Melbourne, Brisbane or Adelaide

Arrival Cities

Beijing or Shanghai

Minimum/Maximum Stay

Minimum Stay: 10 Days
Maximum Stay: 1 year

Children

Child and Infant Fares not applicable

Payment
Credit Cards, Direct Deposit, Cheque, Luxury Pay Later, Payment details »
Other

Change and cancellation fees apply, please speak to us for details
Experience why Singapore Airlines has been voted Best Airline of the Year – third year running!! Fly to China from $4,300 per person + taxes. Valid for sale until 17Jun11. For trave until 31Dec11.
Business Class
To
From Sydney, Melbourne, Adelaide or
Brisbane
Beijing/Shanghai
$4,300
Prices are PER PERSON and exclude taxes
Taxes are approx $300 per person and will vary depending on departure and arrival cities
Other destinations available please speak to one of our friendly specalists for details
Ticketing must be completed no later than 21 days before departure
ALL above fares are PER PERSON and INCLUDE all fuel surcharges and taxes. Rates are subject to high season surcharges, availability and changes without notice. Advertised rates are based on the lowest available fare and may differ at time of booking. All featured "from" prices are based on the lowest priced routing for the destination(s) listed. Taxes may increase if stopping over at a destination, returning from an alternative port or if not paid in full at time of booking. Other travel dates may be available at an additional cost. Please ask one of our Travel Specialists for full details, terms and conditions.
You can use our online booking engine to search for availability or book online (Not available for mixed class fares). If rates differ from advertised fares, it may be due to conditions of the fares or limited availability of the lowest fares on the dates requested. Call us to help you find the best fares for suitable dates. Call us if you are booking flights departing within 3 working days. Seats are held when using the online booking engine, however tickets are not issued instantly, our Travel Specialists will contact you to confirm full details and preferred payment method before issuing tickets.
First & Business Class Info
 Suites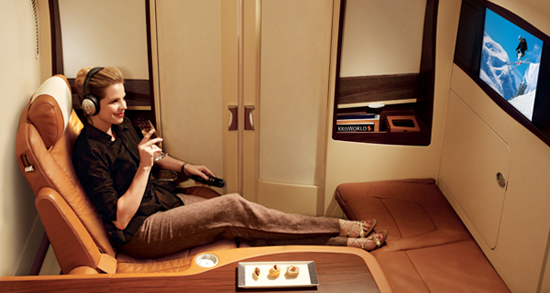 The Singapore Airlines Suites, exclusively available onboard the A380, provide a privileged few with their very own haven of tranquillity.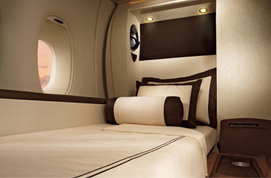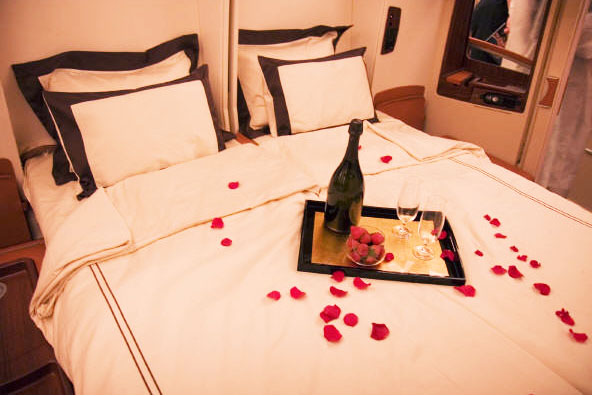 Luxuriate in the largest ever seat; a lavish armchair hand-stitched by master Italian craftsmen Poltrona Frau. At up to 35-inches across, your seat is unsurpassed in comfort and space and features a 23 inch LCD screen.
Or for the first time ever, experience the pleasure of sleeping on a standalone bed; not one converted from a seat. Along with our signature turndown service, fine linen and full-sized pillows, you are assured of restful slumber.
With only 12 extraordinary suites, the Singapore Airlines Suites is truly a class that is yours alone.
An unprecedented level of privacy
Each cabin features sliding doors and window blinds, offering you the freedom to decide on the level of privacy you prefer. Even the leather and wood finishes have been designed in soothing natural hues to enhance the sense of serenity.

The premium cabin has also been laid out to offer more stowage space for your cabin baggage and personal items, and a full-length wardrobe – all within easy reach.
 

A cabin unlike any other

Whether discussing business or sharing a relaxing moment, the Singapore Airlines Suite is exceptionally accommodating, with a soft leather chaise lounge across from the armchair and a large dining table.

Everything required to do business, or enjoy KrisWorld is easily accessible, including a multi-port with power supply, headphone connection, USB ports and more.
First Class
New Boeing 777-300ER and Selected Boeing 777-300 aircraft.
New First Class Available on Singapore Airlines' new Boeing 777-300ER aircraft.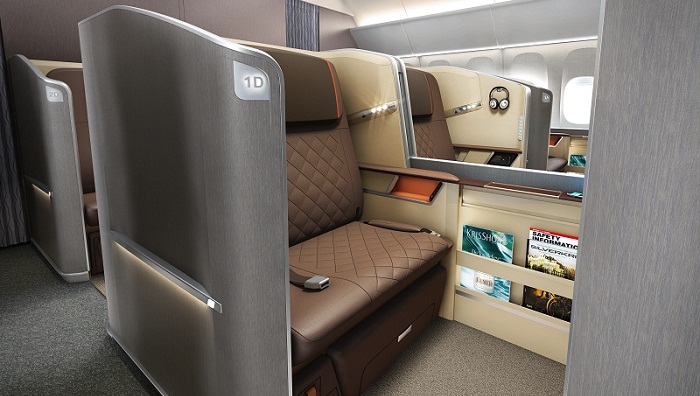 A journey unlike any other...
The ergonomically sculpted headrest and seat cushions further enhance the comfort of the new First Class seat. The seat back cushions now provide better lumbar support and the seat pan offers a comfortably cradled seating position.
The outer walls of the seating area have also been extended and curved to offer ample privacy.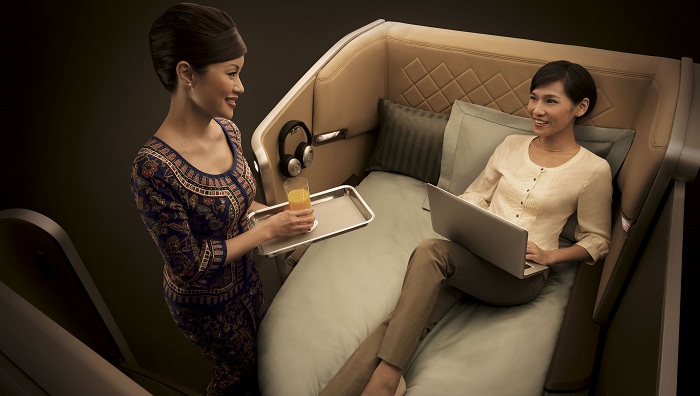 Your luxurious bed awaits...
An additional mattress topper has been added to the crisp linen, fluffy pillows and plush duvet to create an even better sleeping experience.
Passengers are also able to lounge more comfortably in bed mode with our signature plush padded headboard.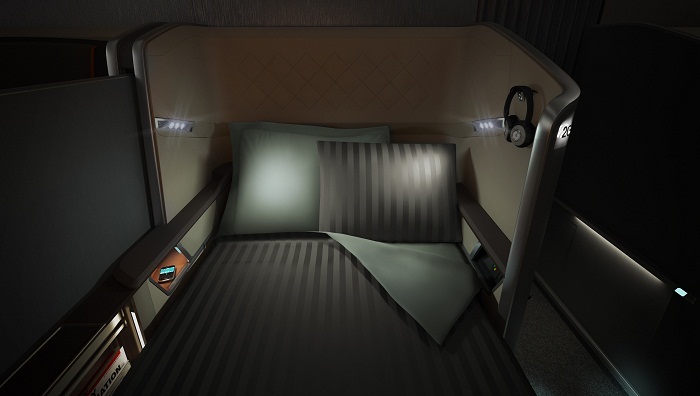 A harmonised lighting environment...
In-depth research was carried out with lighting experts to develop not only a stylish reading light but one that also provides a conducive environment for reading or working. In addition to reading lights, the seat features ambient lighting, which not only accentuates the seat design but also serves as a night light in a dimmed cabin.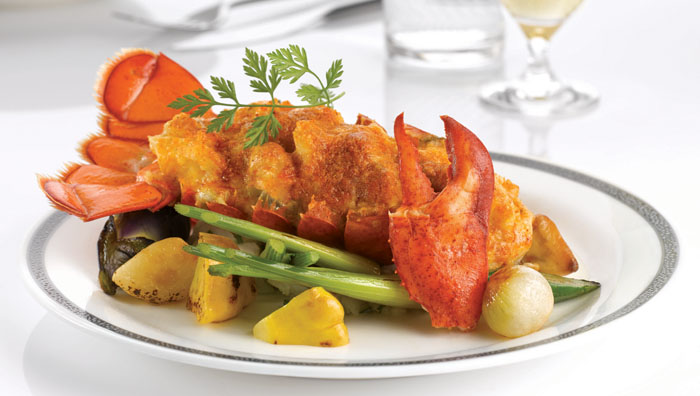 A gourmet restaurant at your favourite seat...
Choose from a selection of gourmet masterpieces created by our International Culinary Panel of world-renowned chefs, and accompanied by wines carefully selected to delight the discerning palate. Enjoy sumptuous offerings served on exquisitely patterned tableware designed by Givenchy.
Take a break with our enhanced snack menu offering savoury and sweet selections, along with some of the finest gourmet coffee.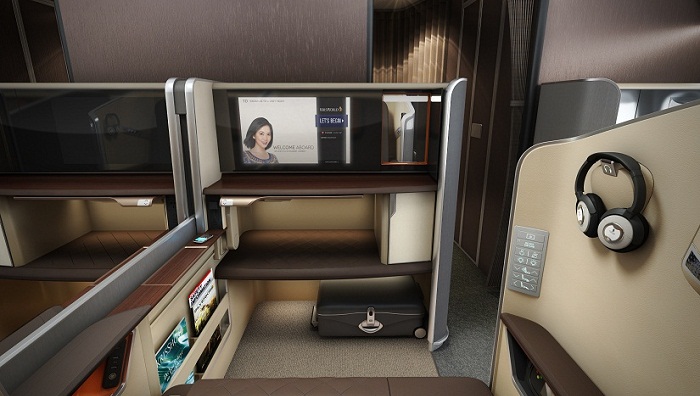 An unforgettable entertainment experience...
Enjoy a truly immersive experience on the most advanced in-flight entertainment system available in the air today. Features include a 24-inch LCD screen with 1080p full HD resolution, the award-winning Bose QuietComfort 15 noise-cancellation headphones and an innovative yet intuitive touch screen interface.
In-seat power, USB and HDMI ports are all available allowing you to turn your seat into your own unique cinematic experience or work as you please.
For up-to-date information on Singapore Airlines First Class click here>>
Business Class
New Business Class Available on Singapore Airlines' new Boeing 777-300ER aircraft.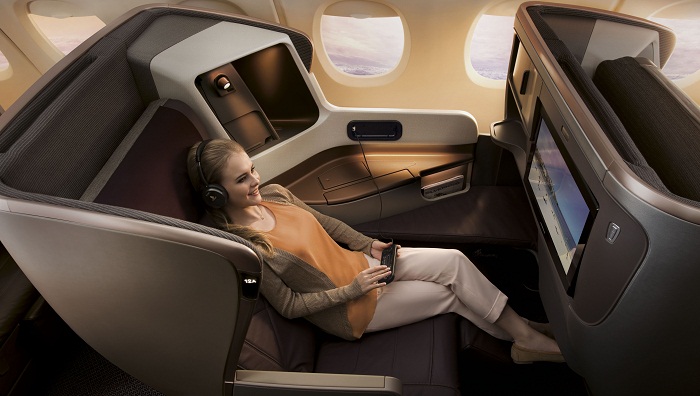 Thoughtfully designed around you...
The seat offers greater recline at 132 degrees and features an improved ergonomic seat cushion. There are 2 new sitting positions created (the Lazy-Z & Sundeck) for more comfort and flexibility in lounging.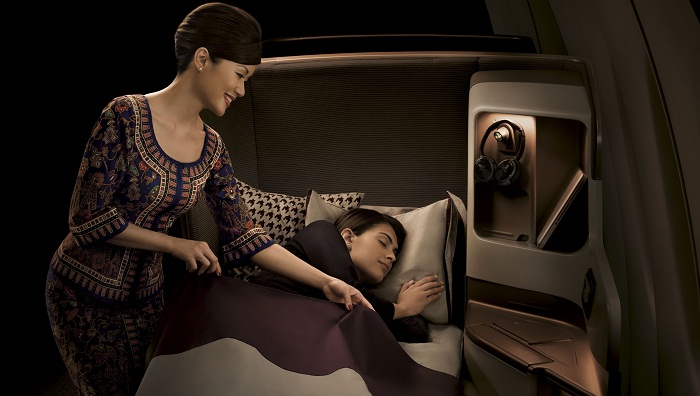 Indulgent comfort for a restful sleep...
The seat flips down into a 28-inch wide full-flat bed, at 78 inches in length. It boasts improved bed padding and cushioned headboard for enhanced comfort in both sleeping and lounging positions.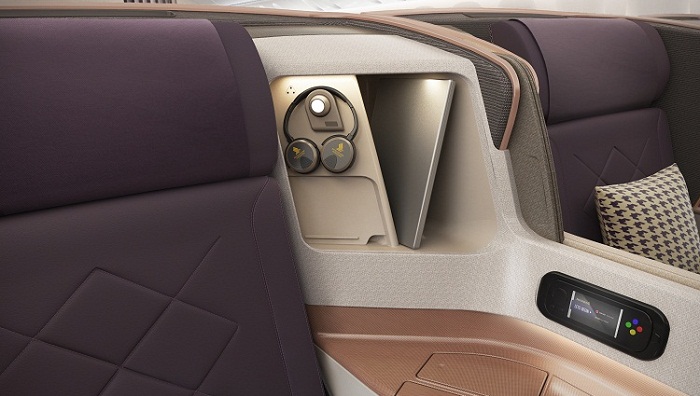 Ample stowage space within your reach...
A side console specially designed to stow your laptop and tablets is conveniently located within reach in both seat and bed mode. Located near this stowage area are the in-seat power supply, eXport, HDMI and USB ports to connect and charge your smartphones, laptops and other personal devices.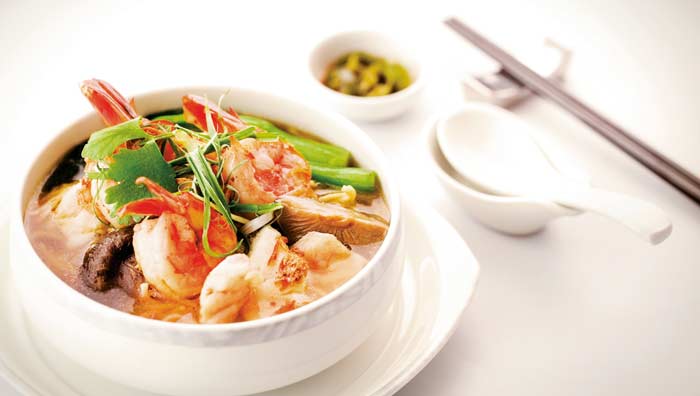 Epicurean experience...
Enjoy finest restaurant-style setting and culinary service at 30,000 ft.
Each menu, specially created by our International Culinary Panel of celebrated chefs from around the globe, is sure to appeal to the discerning epicure within you.
Indulge in full table service, complete with contemporary designer tableware from Givenchy. And should you wish, your table may be adjusted to varying heights, allowing you to dine in absolute comfort.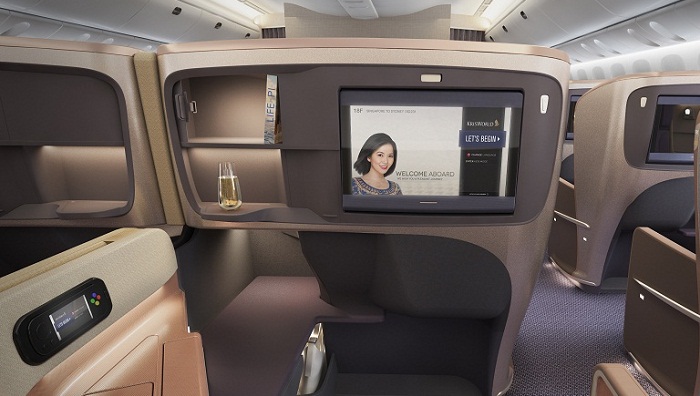 Wider, Sharper, Smarter...
An 18-inch wide HD resolution LCD screen and noise-cancellation headphones provide countless hours of entertainment as you travel in comfort. Coupled with our intuitive touch screen interface, navigating through our wide array of captivating entertainment options has never been easier.
New Business Class Available on Singapore Airlines' A380, A340-500 and Boeing 777-300ER aircraft.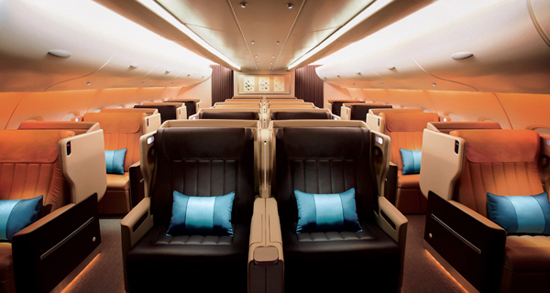 Indulge in space
The unrivalled space between each seat, providing you direct access to the aisle, is a hallmark of our unique 1-2-1 forward facing cabin layout.
Our new Business Class seat – the widest in its class 20 - 30 inches – invites you to be reacquainted with the joys of relaxing on your favourite sofa.
Designed with a contemporary colour scheme and enhanced by intelligent mood lighting, your surroundings exude an aura of unmistakable sophistication.
 

Stretch out and unwind

Your most spacious seat unfolds to reveal the largest ever full-flat bed in business class, offering plenty of room to stretch out and enjoy a rejuvenating night's rest.

Drift off into a restful sleep, surrounded by a light duvet, larger pillows and fresh linen - sweet dreams are just around the corner.
 

Your office in the sky

All the conveniences you would expect in an office are provided for in a centralised, all-in-one business panel, which includes an in-seat power supply and USB ports.

And when it is time to unwind, a wide array of captivating entertainment options from KrisWorld wait on an impressive 15.4-inch wide LCD screen.
The finest details
Settle your reading glasses in a snug storage compartment and stow your hand-carry bags within easy reach. You will also find additional storage space cleverly integrated into the seating area.

Our new Business Class is the most spacious the world has ever seen, with the largest seat and fully-flat bed in its class. These new cabin products are fitted on Singapore Airlines Boeing 777-300ER, A380 and A340-500. 
For more information on Singapore Airlines Business Class click here >>
For more information on Luggage Allowance please click here >>