Japan Airlines Business Class to Europe - Return Airfare
Image Credit : Japan Airlines
Airfare Details
Japan Airlines Business Class to Europe Special
| | |
| --- | --- |
| To: | From: Sydney, Melbourne |
| London | Return from $5,895 |
| Paris | Return from $5,675 |
| Europe* | Return from $5,550 |
*Advertised Europe fares are based on a return trip to Rome. Fares to other European cities may vary.
Fly with Oneworld carrier, Japan Airlines from $5550 which includes:
Business Class to Europe
3 pieces of checked baggage
Earn Qantas Frequent Flyer Points
Enjoy a stopover in Japan and Europe
Japanese hospitality and service
ALL above fares are PER PERSON and INCLUDE all fuel surcharges and taxes. Rates are subject to high season surcharges, availability and changes without notice. Advertised rates are based on the lowest available fare and may differ at time of booking. All featured "from" prices are based on the lowest priced routing for the destination(s) listed. Taxes may increase if stopping over at a destination, returning from an alternative port or if not paid in full at time of booking. Other travel dates may be available at an additional cost. Please ask one of our Travel Specialists for full details, terms and conditions.
You can use our online booking engine to search for availability or book online (Not available for mixed class fares). If rates differ from advertised fares, it may be due to conditions of the fares or limited availability of the lowest fares on the dates requested. Call us to help you find the best fares for suitable dates. Call us if you are booking flights departing within 3 working days. Seats are held when using the online booking engine, however tickets are not issued instantly, our Travel Specialists will contact you to confirm full details and preferred payment method before issuing tickets.
Book By
29-Oct-2021
Departure Until
Valid for travel from 18 December 2021 through to 30 September 2022 - subject to Australian and International borders opening for travel.
Departure City

Sydney & Melbourne

Fares from other departure cities in Australia are available, please speak to one of our Travel Specialists for more information.

Arrival Cities

London, Paris or *Europe: Frankfurt, Helsinki, Aberdeen, Malaga, Algeria, Amsterdam, Athens, Barcelona, Berlin, Brussels, Birmingham, Budapest, Copenhagen, Dublin, Edinburgh, Glasgow, Istanbul, Helsinki, Madrid, Milan, Moscow, Munich, Oslo, Prague, Rome, Stockholm, Vienna, Venice, and Zurich.

Other destinations in Europe may also be available, please ask one of our Travel Specialists for more information.

Routing & Flight Duration
Australia to Tokyo to Europe with Japan Airlines
Minimum/Maximum Stay

Minimum Stay: Nil
Maximum Stay: 12 Months

Children

Children and Infant discounts vary, please ask one of our Travel Specialist for more details.

Payment
Credit Cards, Direct Deposit, Cheque, Luxury Pay Later, Payment details »
Other

Airfare is subject to availability and fare may not be available on all dates or routes.
Once your reservation is confirmed, full payment must be received within 7 days.
Date changes and cancellation fees apply.
Please ask one of our Travel Specialists for more information.

Visa Info
Visa Info


Click the link to check if you require a visa.
Stopover
Tokyo
Tokyo is Japan's thriving capital with a mix of traditional vs ultramodern. Witness neon-lit skyscrapers to historic temples and stunning gardens, to rivers laden with overhanging cherry blossoms and the impressive Mt Fuji.
spacer30
Some of the many must-see tourist attractions include; the Tsukiji Market, the historic Meiji Shrine and Sensoji Temple, the spectacular Shinjuku Gyoen National Garden a nature lovers oasis. For those with an interest in art and fashion, venture down to Harajuku, renowned for its colourful street art and youth fashion. Take a stroll around The Arcades of Ikebukuro - a leading shopping and entertainment and gaming area or visit Akihabara, located in central Tokyo, famous for its inexpensive electronic shops, maid cafes and stores ideal for anime an game lovers. For a true look at the hussle bustle of Tokyo, be sure to visit Shibuya Crossing and witness the scramble that occurs when the traffic lights turn red, stopping all vehicles for a flood of pedestrians to cross the road.
spacer30
spacer30
Osaka
Osaka is a large port city on the Japanese island of Honshu. The city is a major financial centre of Japan and is famous for its nightlife, architecture and iconic street food. Osaka Castle is its most widely known landmark, built in the 16th-centry, along with Sumiyoshi Taisha Grand Shrine, and Shitennō-ji, the oldest Buddhist temple in Japan. Osaka is surrounded by a moat and dozens of cherry-blossom trees.
spacer30
spacer30
Nagoya
Nagoya is the largest city in the Chūbu region of Japan. The to attractions of the region include; Toyota Commemorative Museum of Industry and Technology, Port of Nagoya Public Aquarium,  SCMAGLEV and Railway Park.
spacer30
First & Business Class Info
JAL Business Class
JAL prides themselves on ensuring a pleasant, refined and unrestricted experience for every passenger.
Seating
The ideal in-flight space for your own personal enjoyment for a restful night sleep on the fully flat bed with exclusively designed mattress and pillow. Unobstructed access from any seat keeps you undisturbed throughout the flight.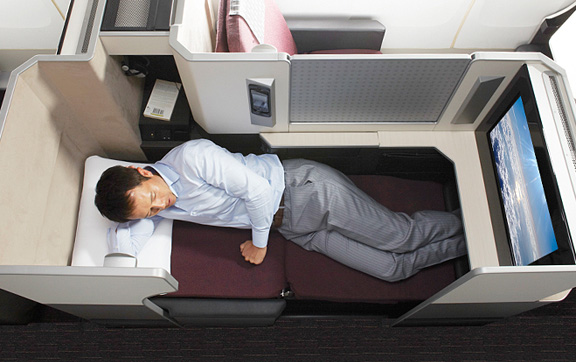 Food & Beverage
Meals are prepared by a team of esteemed chefs who are focused on presentation, flavour and seasonal ingredients. Passengers can request special inflight, allergy-friendly meals in advance. The meal will be served 1 hour after take off.  The meal for flights departing midnight and JL720 will be served 2 hour and 30 minutes before arrival. JAL Business Class passengers can enjoy specially selected wines from around the world. JAL has brought onboard Motohiro Okoshi, who has made his mark far and wide as a wine taster and wine director. Under his advisement, JAL have carefully selected wines that they invite you to pair with your meal and enjoy.
JAL - Covid-19 Fly Safe (limited time)
JAL has teamed up with Allianz Travel to provide all customers traveling on JAL international flights complimentary cover for medical, testing and quarantine expenses incurred as a result of testing positive for COVID-19 during their travel. A 24-hour support line is available from anywhere in the world where customers can consult with trained staff if they suspect they have become infected with COVID-19. Conditions apply*
Inflight Entertainment
JAL offer a selection of popular movies, audio programs & games on your own personal screen with noise-cancelling headphones.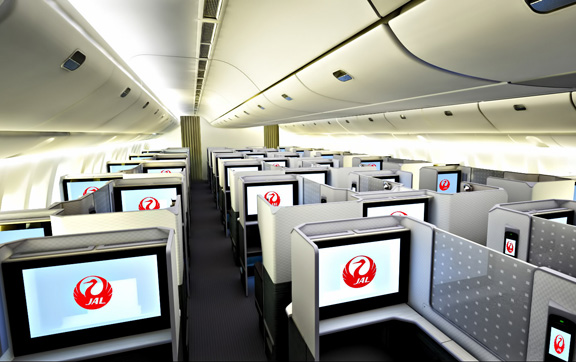 Baggage Information
Baggage allowance will change depending on your desired routing and chosen fare, please ask your Travel Specialist for exact information regarding luggage allowances for your flights. Business Class from Australia to Europe allows 3 pieces of checked baggage.
Airport Lounges
Business Class travellers have access to Sakura Lounge at Tokyo (Haneda), Tokyo (Narita), Osaka and Nagoya Airport.  *Please note that lounge access may have changed and some lounges may be closed during the current Covid-19 pandemic. For more information regarding Japan Airline's airport lounge access please contact one of our Travel Specialists.
Travelling with Children
JAL provide bassinets that are ideal for infants weighing up to 10.5kg and up to age 2,  they require you to book in advance of your flight. JAL also provide infant seats and special meals for infants and children.